As I stepped from the shower the other night, I noticed something quite remarkable on the plastic covering the window.  Two multi-colored Asian Lady Beetles had left their tracks in the condensed steam.  It was a rare chance to see beetle tracks!
While the one was making a rather direct track, the other seemed a bit undecided about which way to go.  A closer look revealed some strange markings.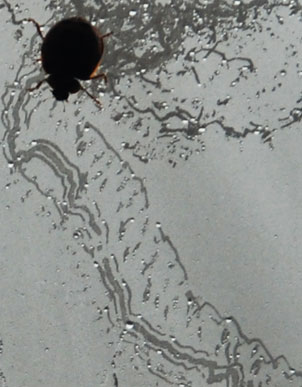 What an odd set of prints!
Posted on April 12th, 2009 by Rebecca Whitman
Filed under: Bugs and Crawlies!