Here is our second mystery skull.  This is a very unusual one.  I'll show you an overhead shot first, since it's quite a challenge to identify it from this angle.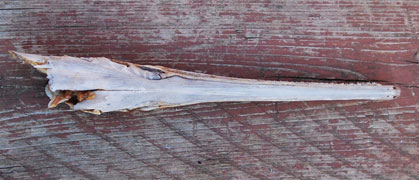 We found this skull on the banks of the St. Croix River on the Minnesota side.  Here is a view from the side.

Look at those teeth!

If you're up for the ID challenge, post your guesses below.  If you'd like to know the answer, you can find out what kind of skull this is, and learn a little about its former owner here.
Posted on April 9th, 2009 by Kenton Whitman
Filed under: Skulls