We try to get out for a hike with Mirabelle almost every day. Often it's just a walk down the long drive, but the other day we had a good two-hour adventure through the Hundred-Acre Wood. There were some new tracks in the woods that we hadn't seen before. The glove in the bottom left is for reference, thought it's kids-glove size so the tracks, though quite large, aren't quite as big as you'd think. Does anyone recognize them? More clues can be found below if you're stumped.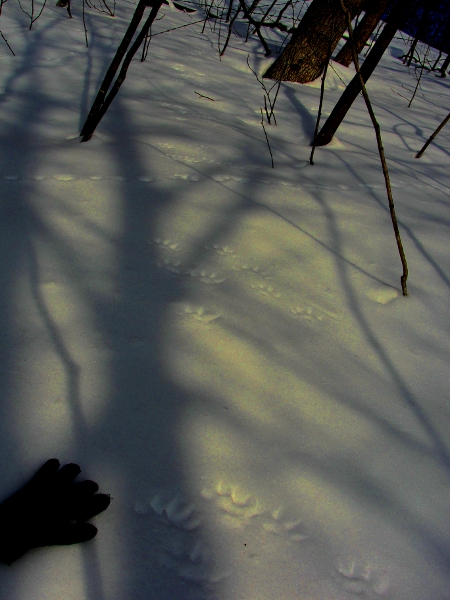 Clues: These were found in a mixed hardwood forest along a rise going up to a ridge, though we saw the tracks throughout the 2-hour hike. The animal(s) were everywhere, often bounding in a pattern that left two parallel holes, a space, and the two more parallel holes (a 2x bounding pattern). The tracks had five toes each, with claws visible. Though the tracks were mostly on the ground, the occasionally disappeared up a tree. Do you know who this is?
You can find the answer in our Adventure Journal, in a post by the same name.
Posted on March 2nd, 2011 by Kenton and Rebecca
Filed under: Tracking