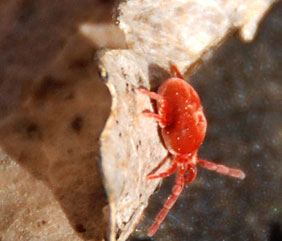 When we took a picture of this little critter - one of the first 'bugs' we've seen this spring - we realized that we didn't know what it was.  We had both seen them all our lives - like little balls of velvet with legs, we had often found them crawling about in the deep woods - impossible bright dots on brown leaves or bark.  Thinking that they were mites of some kind, we typed 'spider mite' into google and were dismayed to find nothing except for a lot of references to the extermination of everything 'mite-ish'.  It took a lot of digging to discover that our observation of the creature's velvety appearance held the key to its name - we had taken a photo of a red velvet mite.
Hailing from the family Trombidiidae, there is actually very little known about these creatures - Liam Heneghan, an ecosystem ecologist from DePaul University who was interviewed in this article for Chicago Wilderness Magazine, called them an 'under-researched enigma'.   He did explain that they are chelicerates, making them closely related to spiders and scorpions, and told of their fascinating mating 'dance', where the male lays down sperm along a branch and then crafts a silken trail to entice females to come and sit down on his sperm.  He also hinted that their bright red color is a warning that the mites have a terrible taste - he said that he's placed them on anthills and observed no ants moving in for what would seem like an easy meal.
It's known that the red velvet mites play a vital role in the decomposition process.  But the details of that role are still missing.
We're going to pay more attention this summer when we see one of these little mites.  They can be fast, and in the varied terrain of leaf-litter they're not always easy to follow, but we're excited to see if we can get a glimpse into their lives.  If anyone else knows any interesting facts or has had their own experiences with the red velvet mite, we'd love to hear your observations in the comments!
Here is another picture sent in by a reader:

Posted on April 6th, 2009 by Kenton and Rebecca
Filed under: Bugs and Crawlies!