There is no feeling quite like wandering off into the neighboring woods and returning with baskets full of wild edibles. These are the ultimate health foods — about as 100% organic as you can get, and many of them are surprisingly yummy. Even more significantly, learning about wild edibles re-connects us with nature. When all of our food comes from the grocery store, it's easy to forget that what we eat comes from living plants and animals. In the wilds, that fact is ever-present.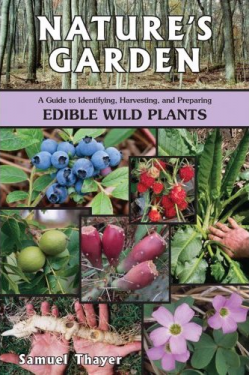 Even children can go out and easily identify delicious natural treats. Wood sorrel is a great example with its tangy flavour, and during a recent 'survival' class that we taught for third graders, the children tasted 'Golden Birch' (yellow birch), and were delighted with the minty taste of the buds.
Learning wild edibles, however, isn't always that easy. Field guides can leave you in doubt about identifying plants, and the negative mystique built up around wild edibles (Wild plants are poisonous! They'll kill you!) has created a culture of doubt and fear around the whole subject.
For us, Samuel Thayer came to the rescue. His first book on edible plants, The Forager's Harvest, introduced us to a new way of establishing a relationship with wild foods. Samuel doesn't perpetuate the negative mystique — he not only eats all the plants he writes about, but during his classes he has his students eat them. From notes about where to find the plants, how to harvest and prepare them, and how they taste, his knowledge is based on personal experience. The result is that you become intimate with each plant he describes. The Forager's Harvest opened new worlds of wild food exploration for us — including introducing us to some wild foods that were right in our own yard!
Now Samuel Thayer has worked his magic a second time with Nature's Garden. Continuing in the tradition of his first book, he covers less species than conventional guides, but each species is introduced with stories, detailed descriptions, photos of all the edible parts, and personal accounts that leave you feeling like each plant is a new best friend. Prior to the actual plant descriptions, Samuel delivers a wealth of information on poisonous plant fables (including his take on Chris McCandless's supposed poisoning by wild sweet pea), an account of Samuel and his wife eating 'wild' for an entire month, notes on conservation, a wild food calendar, and a chart showing the percentage of plants in the book that grow in each of the states and Canadian provinces.
Each time we open Samuel's books, we find old myths turned on their heads, and feel renewed confidence in our ability to enjoy wild foods. This year we have a host of new plants to explore, thanks to Nature's Garden. If you're interested in edible wild plants and want a truly helpful guide, both of Samuel's books are a must in your library.
Now, we're off to see what green things are poking through recently-thawed earth . . .

Posted on April 9th, 2010 by Kenton and Rebecca
Filed under: Plants, Reviews