On a casual romp through the woods the other day, we came upon a humongous mushroom. A bit more searching and we discovered others of the same species growing nearby (though not of this massive size). Kenton was almost positive that we had found a Boletus edulis — a Porcini — even though we didn't think they grew in Wisconsin. Some research at home confused the issue — it turns out that genus boletus is being restructured all the time, and that 'true' Boletus edulis may not even grow in North America.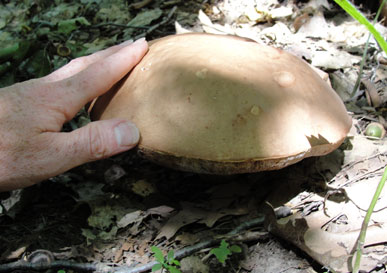 Our enthusiasm wasn't affected, however, so we continued to work on identifying the mushroom. No bruising . . . good. Another point for edulis. Reticulation on the upper stem . . . another edulis trait. Everything looked right. All we had left to do was try a spore print, but Kenton was too eager (bad, bad Kenton!), and decided to try a little nibble.
Now, as anyone who knows anything about mushrooms knows, this is not a good idea. Mushrooms can contain some pretty potent toxins, and since we'd barely rank as amateur mushroomers (our harvest is limited to puffballs, morels, chicken of the woods, and hen of the woods), his action was foolhardy at best. Especially as the mushroom did not have the expected pleasant taste. It wasn't horrible, but it did have a mild bitter taste.
The next day, when we observed our spore prints, the color was totally wrong (bright rust red, instead of olive-brown). We were stumped on our ID, and Kenton reluctantly returned the mushroom to the woods.
The day gave us another surprise, however, as we discovered an elusive and beautiful plant that was once almost extirpated from the Wisconsin forests due to over-harvesting. Does anyone recognize it?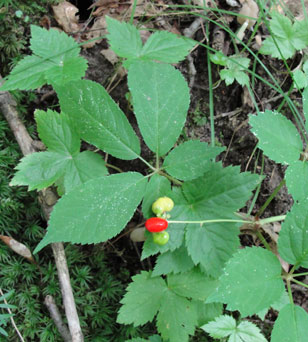 Posted on August 8th, 2010 by Rebecca Whitman
Filed under: Plants, Uncategorized