We're always trying to be responsible when it comes to our food, and for us that means planting our own gardens, purchasing as much local or organic food as possible, and looking at local sources for meat. When it comes to fish and seafood, though, things can get pretty confusing. Luckily, we were lately turned on to the Monterey Bay Aquarium's "Super Green List". This provides information on what seafood to eat based on three criteria:  levels of contaminants such as mercury and PCBs, Omega 3 levels, and environmental concerns.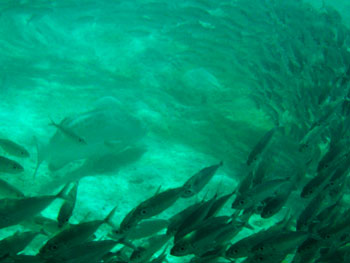 Here are their current top eight choices -
Albacore Tuna, caught by pole or trolling from waters off of British Columbia or the United States.
Farmed Mussels
Farmed Oysters
Wild Caught Pacific Sardines
Wild Caught Pink Shrimp from Oregon.
Wild Caught Salmon from Alaska.
Wild Caught Spot Prawns from British Columbia.
Farmed Rainbow Trout
Their report, found here, contains a wealth of other information. The only warning — it's a large .pdf, and takes a while to load if you don't have high-speed internet.
Our own research led us to a wonderful discovery last year. We were trying to find a canned tuna that would be healthy, delicious, environmentally responsible, and affordable. After a long time on the computer, we placed an order with Oregon's Choice. Their website fulfilled our desire to know everything we could about their tuna — how it is caught, how it is canned, and its nutritional content. Spend some time on their site and you'll be fully educated about the tuna situation.
Best of all, their tuna is GOOD! We get the regular gourmet albacore lightly salted, canned in its own juices (tuna and salt and nothing else), and were pleasantly surprised to find that it is totally different than the cat-food quality tuna we had previously eaten at the grocery. There are big flakes of meat, the flavour is exceptional, and if you add the juices to your meal you get an extra dose of Omega 3 fats. If you enjoy tuna, it's definitely worth the purchase. When comparing prices, note that they have two can sizes — one of which is quite a bit larger than the standard grocery cans.
The life in the sea is being hit hard by the impact of fishing. We do enjoy eating fish, but it tastes a lot better when you know that you're eating a species that isn't on the brink of destruction.
Here's our favorite tuna fish sandwich recipe: Take one 7.5 oz. can of tuna and mix with 1/4 cup finely chopped carrot, 1 green onion (the long thin ones), and 1/2 cup finely chopped purple cabbage. Add your choice of mayo or miracle whip. Squeeze in one slice of lemon, and get liberal with the cracked pepper. A dash of garlic salt and some hot pepper flakes, and you're ready to serve on some nice whole-grain bread. Yum!
Posted on December 22nd, 2009 by Kenton and Rebecca
Filed under: Reviews