The other day Rebecca was poking about in the garden, getting things ready for spring planting. All of the sudden, she called me over and asked me to carefully and slowly dig down into the mulch. There was something 'very special' waiting beneath, she told me. I could hardly imagine what! I pulled back a bit of bark, then another, and then something strange and wonderful met my eyes. A gleaming bit of gold attached to an almost perfectly camouflaged body.
This amazing animal was hiding, silent and cool, beneath the mulch. Waiting . . .

There were other things to be found in the garden. Not only the growing plants, such as the odd, bright red peony shoots emerging from the ground, but another unexpected resident — this large beetle. He seemed hardly able to keep to his feet on the uneven ground. Time and again he tumbled down small hillocks and lay there for a moment, waving his sharp feet in the air before he righted himself and trundled onward.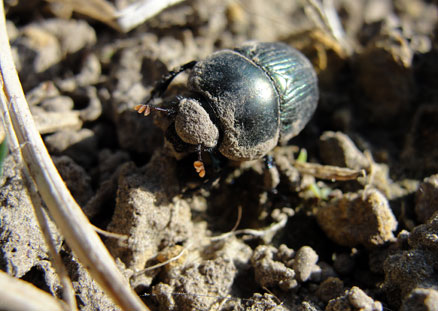 It's clear that all sorts of creatures are busy in the garden this spring — not just Rebecca. From the microorganisms in the soil to the chickens scratching about looking for bugs, the garden is already becoming a happenin' place.
Posted on April 13th, 2010 by Kenton Whitman
Filed under: Getting Outdoors | 16 Comments »